It is both iconic and amazing, weighing as much or more than a water buffalo and having a drop speed of 10 feet per second, but the chandelier from PHANTOM is just one of many meticulously constructed set  pieces which make Cameron Mackintosh's new production of Andrew Lloyd Webber's THE PHANTOM OF THE OPERA so mesmerizing. The music, of course, is also legendary, and listening to the live orchestra is a treat which far surpasses any recorded offering. It staggers the imagination to consider the time and effort that went into this production which boasts a cast and orchestra of 52, making this one of the largest productions on tour in North America.​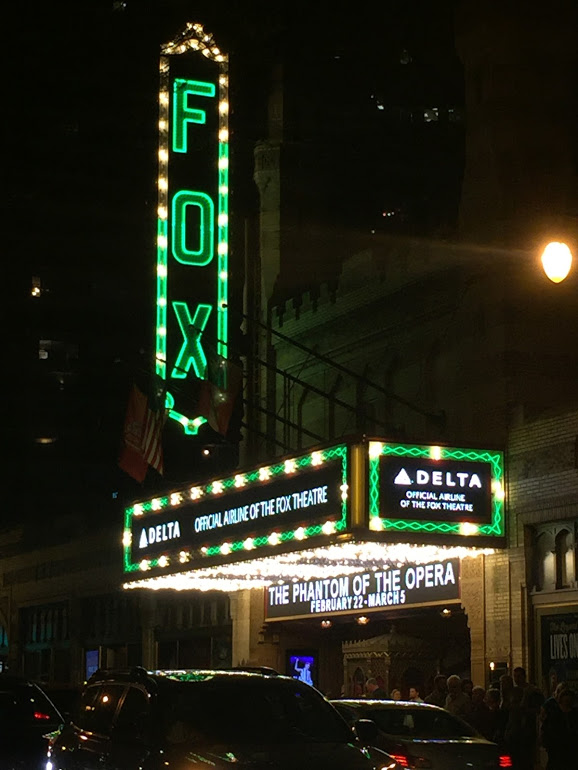 The many moving lights, haze, and smoke effects are amazing and might make members of the fire department the rare few who are unable to appreciate this unique production. Even if there were no pyrotechnics (and there are 50 elements in the chandelier alone), these guys would still have to be on hand, because Katie Travis as Christine is simply electric, setting off sparks with every aria.
The love story of the music of the night, replete with angst, yearning, rejection and redemption is an emotionally gripping tale complemented with choreography and singing so superb that we were eager for intermission to finish and the production to resume. The poignant portrayal of the man behind the mask, brought to life by Derrick Davis, would be a winner for any date night.
See The Phantom of The Opera and enjoy "The Music of The Night" at The Fox Theatre here in Atlanta – playing through March 5, 2017.
PERFORMANCES
The performance schedule is as follows:
Tuesday-Thursday 7:30 p.m.
Thursday 1 p.m.
Friday 8 p.m.
Saturday 2 p.m., 8 p.m.
Sunday 1 p.m., 6:30 p.m.
TICKETS
Tickets start at $33.50 and are available by visiting www.FoxTheatre.org/phantom, calling 1-855-285-8499 or visiting the Fox Theatre Box Office (660 Peachtree St NE, Atlanta, GA 30308). Performance schedule, prices and cast are subject to change without notice. For more information, please visit  www.ThePhantomOfTheOpera.com/ustour or www.BroadwayInAtlanta.com
Macaroni Kid Discount: Save AT LEAST 10% on most shows & up to 40% on service fees. Use code FRIENDS to purchase HERE.
MORE INFO
For more information on the production and a video sneak peek, please visit www.ThePhantomOfTheOpera.com/ustour/
KEEP UP WITH EVERYTHING THAT'S GOING ON AROUND ATLANTA
Disclaimer: I received complimentary tickets to this performance in exchange for this review. Opinions, however, are entirely my own. Go see it. Really.